I have taken classes at Clark College
Apply for Admission
Applications must be received by the Admissions Deadline.
If you are returning to Clark College to seek a degree or certificate after an absence of four or more quarters, or if your contact information has changed since your last enrollment, you need to submit a new Application for Admission. If you attended another college during your time away from Clark College, you will need to submit an official transcript if you plan to use these credits towards your degree or certificate program.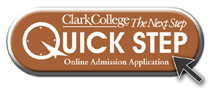 Apply for Financial Aid
You must complete an application for admission prior to applying for financial aid. The Financial Aid Office cannot process your file until the Admissions Office has received your application. Visit the Financial Aid section of this web site for financial aid application instructions and deadlines.


Complete Placement Testing
Placement testing is required prior to registering for a course with a COMPASS prerequisite. The COMPASS exam is given on a walk-in basis; visit the Assessment Center website for information on testing hours. You do not need to test, if you have taken college math and English courses at Clark College, have already completed the placement test at Clark College, or have completed math and English courses at another institution and have submitted the official transcript to the Welcome Center-Admissions Office.

Meet with an Advisor
Academic advisors are there to help you define your educational goals and select classes required to complete your degree or certificate. Returning students are required to meet with an advisor their first quarter back, then at specific intervals based on credit accumulation. Visit or call the Advising Center to schedule an appointment. During registration periods, the center serves students on a walk-in basis.


Register for Classes
If you have completed an application by the priority admissions deadline, you will be mailed a registration access date/time. To utilize online registration services, you will need your registration PIN. This will be provided to you at the end of your advising session. You will not be able to register until you see an advisor, so plan early to avoid a delay in your registration opportunity.