CLARK COLLEGE & PORTLAND STATE UNIVERSITY TAKE THE NEXT STEP AS PARTNERS IN EDUCATION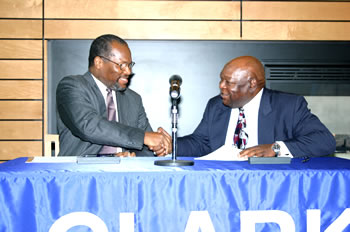 Clark College and Portland State University (PSU) have formalized a co-admission agreement designed to improve student access to undergraduate education, increase the efficiency of joint efforts in support of students, and improve the success of student transfer rates through the completion of associate degrees and baccalaureate degrees.
In 2004, over 100 Clark College students transferred to Portland State University, making PSU the second highest recipient of Clark College students behind Washington State University Vancouver. The new partnership provides numerous benefits for Clark College students, including coordinated federal financial aid disbursement, early on-site academic advising, special scholarship opportunities for co-admitted students, coordinated student and academic services, one application, joint library services, access to computer services and coordinated degree completion.
Clark College students will be encouraged to transition to Portland State University after completing 90 transferable credits. Students will be advised to pursue educational pathways that include successful completion of an associate degree en route to the baccalaureate degree. Students who complete their program of study at Clark College and satisfy all requirements (including grade point average) will be guaranteed admission to Portland State, which currently enrolls more than 1,500 students in co-enrollment programs with Portland Community College, Clackamas Community College, Chemeketa Community College and Mt. Hood Community College in Oregon.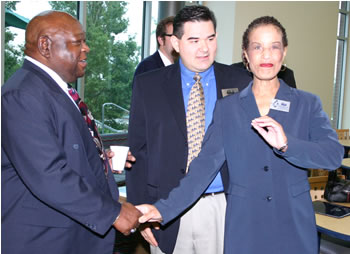 As part of the agreement, both institutions have established mutual goals for the future including faculty exchange and professional development activities, career path programs, technology connections (access to student records, library services, course and classroom linkages and other faculty/student communication), as well as a comprehensive evaluation process for assessing the outcomes of the partnership agreement.
The University offers a comprehensive array of degree programs. Students may obtain a bachelor's degree in many majors including business administration, engineering and computer science, biomedical informatics, African American studies, fine and performing arts, foreign languages and literatures, biological and physical sciences, community health, applied linguistics, liberal arts, social sciences, architecture, mathematics and international studies among many others.
Information about Portland State University can be found on the Internet at
www.pdx.edu
or by calling 503-725-3000 or toll-free 800-547-8887. Portland State's Student Union is located at 1825 SW Broadway, Portland.