My CASA Volunteer Experience
by Ashley Rhodes
CASA volunteers get to know their court-appointed child by talking with everyone in that child's life: parents and relatives, foster parents, teachers, medical professionals, attorneys, social workers and others. They use the information they gather to inform judges and others of what the child needs and what will be the best permanent home for them.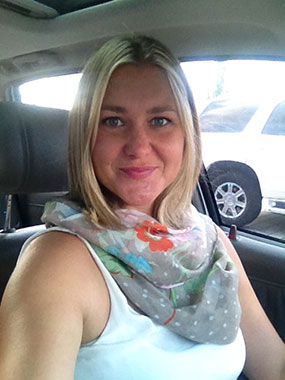 With my full time job, full time school, children and a relationship, getting started as a CASA (Court Appointed Special Advocate for children and families in need) was challenging. To begin, I had to devote 30 plus training hours in CASA's evening class. Furthermore, once I was sworn in, my duties as a CASA, through Court attendance and meetings with families and social workers, happened during the day interfering with my regular job. Not only challenging my limited time, but CASA produced an emotional drain due to the severity of some of my cases, such as the removal of a child from his home and the circumstances that surrounded that decision.

Why start my story with such "negatives" especially in light of the difficult nature of the cases I took on? Even though it was challenging, no other community experience has been as rewarding as volunteering to be a CASA in spite of such off-putting aspects. My involvement as a CASA with my Community and the Court has changed my outlook in ways that I would not have thought possible when I started.

At the end of my CASA training, I was elated going before a judge with my graduating CASA class to be sworn in, and as I listened to the judge's commendations for CASA's in the community, her words praised the work of all CASA's to help children in our community. Children are so underrepresented. It was a proud moment in my life to be sworn in and start wearing the title, Court Appointed Special Advocate.

It was easy for me, like most, to get caught up in daily routines and not give a second thought about families elsewhere. As a CASA, I reached out to community resources (some I knew and some I didn't know existed), and CASA opened my eyes to some of the most beautiful people with the biggest hearts. My case helped me see how others struggle and how others helped. As a result of my involvement, for instance, I was motivated to organize charity events in my office in order to give back to the people of my community.

Being a CASA, I am a voice for a child that doesn't have one. With so many parties involved in the court process, each having different intentions or outcomes, I advocate for the child's best interest, a sometimes hard conclusion to reach. For instance, being a mother, there is part of me that wants the child to return to his family. However, as a trained CASA, my duty is to determine what is best for the child, as my advocacy will impact his life forever. Thinking of such lasting impact made me nervous to start my first case, even with all of the training I received. Nevertheless, my CASA training properly prepared me to handle a variety of situations in my meetings with the social workers, the families involved, the child and other parties. Furthermore, the support I received from my CASA supervisor, her willingness to quickly respond to my questions or assist with problems, was gratifying, too.

After talking to attorneys, I learned how the court community highly regards a CASA. As a student intern, I needed that recognition on my resume. Also, I valued the chance to interact with the legal community not merely as a student intern, but as an integral part of the court procedures, representing the vital interests of the child.

I am going to continue serving as a CASA even when my first year commitment is over, for I feel good about my work, specifically the sense of belonging to my community that I have never felt before in my life.
by Trisha Humphries
CASA volunteers get to know their court-appointed child by talking with everyone in that child's life: parents and relatives, foster parents, teachers, medical professionals, attorneys, social workers and others. They use the information they gather to inform judges and others of what the child needs and what will be the best permanent home for them.
You are probably thinking that can't be so hard, right? Go play for a few hours a month with a kiddo and then report back on his progress. How hard is that? That's what I thought too. I thought maybe it would look good on my resume and help me find a job. I didn't for a second think that I actually would make a difference or that it would change me as a person.
I had no idea what I was getting myself into.
During my time as a CASA, I learned that the children in the program have seen things, heard things and had to go through things that most of us can't even imagine. They have been scarred so deeply that you will wonder how they possibly could have survived or how they will ever grow up to be "normal."
I first received the name of my CASA-child the same day I completed my training and was sworn in as a volunteer. I leafed through a huge, three-ring binder full of children that need a CASA. I wanted to find a case that was new and hopefully not too far from my home. It wasn't hard to find children that met my basic requirements.
"Stephanie" (whose name has been changed to preserve confidentiality) was 7 years old and had been in foster care for about a month when I first met her. As I read her file, I couldn't help but fall in love with this sweet, little girl that already had been through so much in life. Stephanie had been severely neglected: there were signs of sexual abuse, physical abuse and emotional abuse.
I set up a time to meet with Stephanie and her foster parents. Super excited and nervous, and not sure how I was going to gain this little girl's trust, I arrived at the house. However, Stephanie would not look, talk or even be in the same room with me. She hid from me the entire time. I was crushed and went home thinking that I failed and I would never be able to do this.
Despite the initial difficulties, I scheduled another visit and, this time, Stephanie allowed me to be in the same room with her. After a few more visits, we became friends, jumping on the trampoline, going for walks and playing hide and seek. Over time, Stephanie began to open up to me telling me little things about her home life and her parents.
But one of the things I've learned from PRLE 295 CASA Special Project is that these kids go through it all and nothing adequately prepared me for what I was to see or read.
My hardest times are my visits with Stephanie and her parents. I can see that all she wants to do is please them, but she doesn't know how. The first time I went out to her parents' home, I could see she was so excited to see her mom. Stephanie ran over to her, but her mother turned her back to Stephanie. Stephanie's excitement suddenly deflated. She was done, and there was no coming back. I was shocked that a mother could be so hard, so unloving. I come from a fairly modest background, a mom and dad, couple of brothers, good community and a great school. As Stephanie's CASA, I was in a position to immediately recommend a direction for Stephanie, so I sent my CASA supervisor an email stating what I had seen. I concluded it was not best for Stephanie to be in a place where there was no emotional connection.
Over time, my relationship with Stephanie has progressed. When I go to see her, she is happy to see me and tells me what is going on at school and her foster parents' house. She even will talk about her mom and dad a little, although they still are not her favorite topic. My relationship with Stephanie has grown but she still will not let me touch or hug her, not even a high five! She will tell me a little about her problems, but she stops herself when she realizes what she is saying. When this happens, she changes the subject very quickly. I walk away from every visit feeling sad, but more dedicated to helping her. I refuse to let what happened destroy Stephanie's life. I have made a commitment to help her; I am not going to fail her.
Since becoming Stephanie's CASA, I have met a variety of legal and support professionals assigned to her case. We decided to put together a team of people to help her family so someday they can live together. The team, consisting of a social worker, attorneys, a therapist for each family member, Stephanie's teacher, her parents and me, met every week for six weeks (and still meets). When we first started, her parents would come in yelling, saying this effort was stupid, talking about giving up parental rights and wanting to know why we were "all in their family's business." The parents didn't understand that we were there to help them get their daughter back. It took several meetings before the parents figured it. The meetings continue, and we are still teaching them basic matters, such as how to greet their daughter. For instance, we demonstrate how, when someone enters the room, they can recognize that person by saying, "Hello," and perhaps shaking their hand. We tell them eye contact is important and urge them to be friendly and cordial. So, in Stephanie's case, when her parents greet their daughter, they need to say "Hi," and ask her how she is or how she is doing at school.
Stephanie has told her parents that she doesn't what them to hug her or touch her. They have rejected her so many times that it's going to be a while before she is ready for physical contact. Tragically, the one thing this little girl needs from her parents is something they won't or can't give to her. At first I couldn't figure out why they couldn't, and then I met Stephanie's grandparents. It's a family that only knows how to communicate by yelling and hitting. This cycle has repeated itself through generations.
As Stephanie's CASA, and a part of Stephanie's team, I believe we can help effect a change in her situation. Hopefully, we will be able to reunite this family in a healthy and, somewhat, normal home.
This case still is ongoing and I see that it probably will be for a while. The good news is that if they all continue to work hard, we will be able to reunite them, and that is a rarity. (However, often times, a child ends up in foster homes, or is adopted.)
Being a CASA is one of the most difficult and yet rewarding things I've ever done. My paralegal classes were fine, but nothing could fully prepare me for this experience. So many kids out there need someone like a CASA to fight for them. As a CASA, I am helping a child through the most difficult time in his life. The child counts on me to be there for him. As a CASA, I feel my voice is heard by the court, social services, school teachers and administrators, attorneys and more.
By Scott Fischer
PRLE 295 - My CASA Volunteer Experience
Initially, a CASA goes through 37 or more hours of training with the YWCA of Clark County. This does not include time studying, researching, and reading all of the information needed to successfully complete the program. At times, the training and subject matter can be intense, for there is a deep, emotional component for any new CASA.
Before I was able to work with the children of our community, before I was sworn in as an officer of the court, I was required to attend dependency hearings. At one such hearing, the commissioner asked if a particular family was in need of a CASA. One of the three siblings was reported to have autism. I have a son with autism. Even though we were three weeks away from being sworn in as active CASA's, I told my supervisor I wanted this particular case. I later learned that the single parent was not able to adequately meet the needs of the severely disabled son. Socio-economics, mental health or illness, and lack of resources all play a part in the family's needs.
As CASA's, we are trained to deal with these factors, and our reports are given substantial weight during court proceedings, for we are the child's voice. As a CASA, I am motivated to be a zealous advocate for children. One doesn't have to travel halfway around the world to find hard work; it is already here in our own community. I must work to change things because I can no longer accept them, and in the process, I find I am changing too.