CLARK COLLEGE & CONCORDIA UNIVERSITY TAKE THE NEXT STEP IN CREATING OPPORTUNITIES FOR STUDENTS


In June 2006, Clark College and Concordia University formalized a co-admission agreement designed to improve student access to undergraduate education, increase the efficiency of joint efforts in support of students, and improve the success of student transfer rates through the completion of associate degrees and baccalaureate degrees.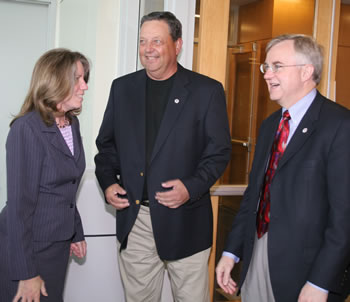 The new partnership provides numerous benefits for participating students, including coordinated federal financial aid disbursement, a waived application fee for Concordia, coordinated student and academic services, credit for prior learning, one application, joint library services, on-site academic advising, access to computer services and coordinated degree completion.
Clark College students will be encouraged to enroll in classes at Concordia University only after completing 70 transferable credits and will be encouraged by staff at both institutions to complete an associate degree en route to completion of the baccalaureate degree.
Clark College students may transfer up to 120 credits to Concordia University. Students who complete their program of study at Clark College and satisfy all program entry requirements at Concordia (including grade point average) will enjoy seamless transfer into the majority of programs at Concordia University.
Future goals of the partnership may include faculty exchange and professional development activities, career path programs, technology connections (access to student records, library services, course and classroom linkages and other faculty/student communication), as well as a comprehensive evaluation process for assessing the outcomes of the partnership agreement.
This partnership agreement provides new educational opportunities for students. Concordia offers outstanding baccalaureate programs through its College of Education; College of Theology, Arts and Sciences; and School of Management.

Information about Concordia University can be found at www.cu-portland.edu or by calling 503-288-9371 or, toll-free, 1-800-321-9371. The University is located at 2811 NE Holman Street, Portland.