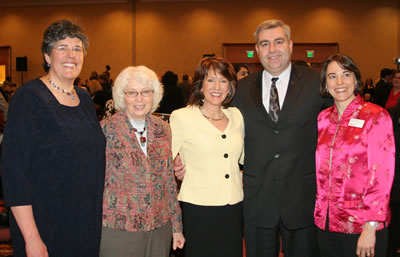 The 2009 Women of Achievement celebration marked 25 years of honoring women in Southwest Washington. Left to right: English as a Non-Native Language professor and 1985 Woman of Achievement Priscila Martins-Read, former director of women's programs and Women of Achievement event founder Pat Watne, KGW-TV anchor and Women of Achievement emcee Laurel Porter, Clark College President Bob Knight, and YWCA Clark County Executive Director Kathy Kniep.
In March 1985, Pat Watne, the Director of Women's Programs at Clark College, organized a photography exhibit to recognize the outstanding contributions made by eight women in Southwest Washington.

The project was held to commemorate National Women's History Month, to recognize International Women's Day, and to honor volunteer efforts and community leadership of women in Clark County. The women recognized in the photo exhibit were also celebrated at a tea.
During the 26 years that followed, the Women of Achievement celebration became the largest event of its kind, honoring women in Southwest Washington.
The awards, which were given annually to eight women by Clark College and YWCA Clark County, have honored women who have made lasting and far-reaching contributions throughout Southwest Washington and beyond.
Their stories affirm the American spirit and embody the truest meaning of hope and possibility. Their lives and work provide guideposts of hope for our future and for our children and remind us all of what the human spirit can achieve if our eyes are fixed on our greatest potential.
In August 2010, Clark College and YWCA Clark County jointly announced that the annual Women of Achievement luncheon would be discontinued. Both organizations affirmed their ongoing commitment to honoring women.