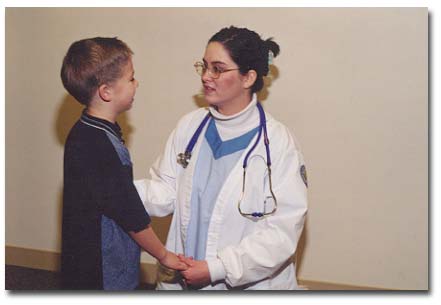 The The Medical Assistant Program is a four-quarter program that prepares students for both front office clerical and back office clinical medical assistant responsibilities. Students may take additional required courses to obtain and Associate Degree.
Students must apply and pay an application fee to be included in selection. Application date is used in ranking student for selection.
The program is accredited by the Commission on Accreditation of Allied Health Education Programs (CAAHEP).
Commission on Accreditation of Allied Health Education Programs
35 East Wacker Drive, Suite 1970
Chicago, Ill, 60601-2208
(312) 553-9355
www.caahep.org
Although applications are accepted at any time, only 30 applicants will be selected. Candidates who meet the preliminary requirements will be considered for winter quarter entry.
Minimum Requirements
Complete the Medical Assisting Application and Clark College Application and submit to the Admissions Office
Complete with a 2.0 or above all Preliminary Required Courses.
Submit official high school transcript in sealed envelope or GED scores and official college transcript (s) from all colleges attended. Course credit hours and equivalency will be determined by Clark College. No applicant will be considered until all transcripts are received.
Take the Clark College Compass Test. Call (360) 992- 2648 for more information. The following scores or equivalent coursework are required prior to program entry:

Compass Score of 31 or higher in Math (Numerical Skills), OR completion of Math 030 or Math 065 with 2.0 or above.
Compass Score of 49 OR completion of ENGL 097 with a 2.0 or above.
Compass Score of 64 or high OR completion of READ 083 with a 2.0 or above.
Program Progression:
Obtain a complete physical to verify proof of fitness. Contact the Health Services Center at Clark College or a personal physician for the physical. Submit physical results to the Medical Office Technology program office.
Take sequentially numbered courses in order. Note: Some courses are offered during one (1) specific quarter each year.
Complete all program courses with a minimum grade of "C" or better.
Maintain a cumulative GPA of 2.00 or higher.
Do not repeat any required program course more than once.
Provide proof of all required immunization before registering for Medical Office Clinical Procedures I (BTEC 163).
Complete or take concurrently all Medical Assistant Program courses before registering for Medical Assistant Directed Practice (BTEC 166).
Before Medical Assistant students can progress into BTEC 166, Medical Assistant Directed Practice (summer quarter), they must provide a FBI Criminal Background Check dated no earlier than 30 days prior to the first day of class.